The Board
Talk

0
2,573pages on
this wiki
Redirected from Board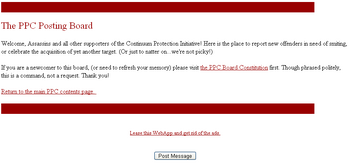 Not to be confused with Board of Department Heads.
The Board is not a table, it is not a plank, and it's not a chalkboard or whiteboard or whatever-else-have-you. It is the PPC Posting Board, and it is the main message board of the PPC.
The Board has a constitution, which we politely insist that you read before participation. It also has a FAQ, which newcomers may find useful.
This is where you can get Permission, talk off-topically about something, plug your missions or fics, and occasionally bring up badfic.
The people who visit the Board are generally excitable and friendly. They also tend to try and give you things, if you prove a vulnerable target. They especially love it when people who had left return back to the Board, and even more so if they return to the PPC itself.
The Board currently stores roughly a year and a half's worth of posts (or, more precisely, 25,000[1]). In order to preserve posts older than this, Tomash and Huinesoron have launched the Board Archive here.
The Other Board
Edit
The Board was drowned in spam in August, 2008, and a New Board, the PPC Message Board, was set up by Huinesoron. Fortunately, the spam problem was later dealt with, and the New Board has been put aside. It tends to be resurrected when a large RP is done. An interesting quirk of the New Board is that some people see its links in blue and others in red. Other than that and a few other minor details, it closely resembles the original Board. Oddly, the Board was spammed again the following August, but such incidents seem to only happen in August.
References
Edit