The Continuity Council of Gallifrey-in-Exile, sometimes called the Continuity Council of Gallifrey, or often simply the Continuity Council, is an organisation of Time Lords in the PPC. They were established to monitor their home continuum in the absence of Gallifrey, and ensure that it is prepared for the return of the Time Lords.
Members of the Council
Edit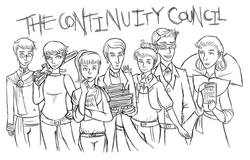 The Council's members are essentially self-appointed, having selected their own positions and even created them for themselves.
[1]
There is no established procedure for joining the Council,
[2]
and not every PPC Time Lord is a member - nor wants to be.
[3]
The councillors are given specific fields of responsibility, and each has a title signifying their role.[1] The titles consist of a gemstone name and a descriptive noun; the gems are organised by colour into a rainbow, and no two councillors share the same colour.[1] In high-speed situations, the councillors sometimes refer to each other by colour.[4]
Original Members
Edit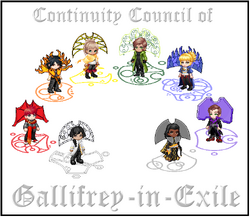 Additional Members
Edit
The Aviator - Moonstone Sentry (White), responsible for monitoring Doctor Who fanfiction, especially fics concerning Gallifrey.
Appearances
Edit
References
Edit
↑ 1.0 1.1 1.2 1.3 "Continuity: Introduction", by Huinesoron and others
↑ "I'd like to take this opportunity...", PPC Board post by Tigress, 20 Nov 2014
↑ "Continuity: Gallifrey Bickers", by Huinesoron and others.
Ad blocker interference detected!
Wikia is a free-to-use site that makes money from advertising. We have a modified experience for viewers using ad blockers

Wikia is not accessible if you've made further modifications. Remove the custom ad blocker rule(s) and the page will load as expected.