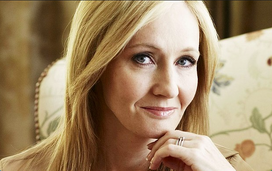 J.K. Rowling
(Joanne Rowling) is the British
author
of the very popular
Harry Potter
series. She first published them in 1997 and now is the 1,062nd richest person in the world.
She is partially at fault for the recent popularity of fanfiction. J.K. Rowling was "flattered people wanted to write their own stories" about Harry Potter.
Since she is not yet dead, and therefore doesn't have a grave to spin in, she is unlikely to be providing much power to the DoDAEG.
Ad blocker interference detected!
Wikia is a free-to-use site that makes money from advertising. We have a modified experience for viewers using ad blockers

Wikia is not accessible if you've made further modifications. Remove the custom ad blocker rule(s) and the page will load as expected.