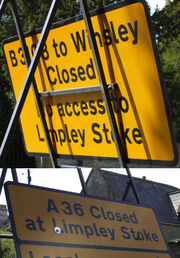 Limpley Stoke is a mysterious town in England, in the Real World. The reason it is so mysterious is that, wherever you go in the area around it, you will find signs informing you that there is no access to Limpley Stoke. From anywhere. Nothing goes in or out of Limpley Stoke, ever. It almost sounds like a plothole. In fact, further information suggests that it is caused by the Avon Rift.
Investigation
Edit
Agent Morgan left on a month-long trip to investigate Limpley Stoke immediately prior to the Macrovirus Epidemic. More details of her findings are available here.
Ad blocker interference detected!
Wikia is a free-to-use site that makes money from advertising. We have a modified experience for viewers using ad blockers

Wikia is not accessible if you've made further modifications. Remove the custom ad blocker rule(s) and the page will load as expected.