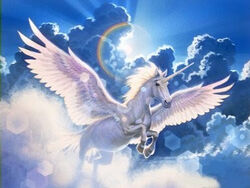 Aethiopia produces . . . many monstrosities—[including] winged horses armed with horns, called Pegasi.
—Pliny the Elder, Natural History
A pegacorn is a hybrid of two mythical equines, a unicorn and a pegasus. As such, it looks like a horse with wings and a horn sticking out of its forehead. Pegacorns are also referred to as unipegs, alicorns, or winged unicorns. The term "horned pegasus" could probably be used as well, but it just sort of sounds awkward. And maybe a little dirty.
Sometimes these creatures are portrayed in medieval art with two horns instead of one, giving them the appearance of a winged antelope.
The creation of the pegacorn/unipeg/alicorn/winged unicorn can probably be traced back to the ancient Roman naturalist Pliny the Elder, who wrote about them in his encyclopedia, Natural History, in which he claimed that there were many of them living in what is now Ethiopia. While there are no horse-like creatures with horns and wings living there, the Pegasus of Greek mythology was said to have been born somewhere near the general area.[1]
In fanfiction, pegacorns are often used as steeds for Mary Sues. My Little Pony OC pegacorns are usually powerful Mary Sues themselves, as two of the only four canonical pegacorns in MLP are essentially living goddesses, the third rules a country, and the fourth is a hugely powerful mage. If a pony references an alicorn, they are talking about a pony with both wings and a horn and not the mythical substance said to make up the horn of a unicorn.
Honesah is called a Pegacorn, but is a humanoid with hooves, wings and a horn.
References
Edit
Ad blocker interference detected!
Wikia is a free-to-use site that makes money from advertising. We have a modified experience for viewers using ad blockers

Wikia is not accessible if you've made further modifications. Remove the custom ad blocker rule(s) and the page will load as expected.