Ad blocker interference detected!
Wikia is a free-to-use site that makes money from advertising. We have a modified experience for viewers using ad blockers

Wikia is not accessible if you've made further modifications. Remove the custom ad blocker rule(s) and the page will load as expected.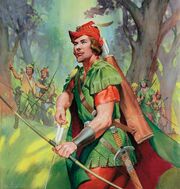 Robin Hood
is a folk hero from England, an outlaw who stole from the rich and gave to the poor. His story has been re-told so many times that the Robin Hood continuum is a multiverse in its own right.
Notable adaptations:
Howard Pyle's novel, The Merry Adventures of Robin Hood, in 1883
Robin Hood, a Disney animated film starring anthropomorphized animal versions of the characters, in 1973
Robin Hood: Prince of Thieves, 1991
Robin Hood, the BBC TV series, 2006
Missions in this Continuum
Edit