Agent Librarian is a Renegade Time Lord serving in the Department of Floaters. He is written by Desdendelle.
First Librarian
Edit
Appearance
Edit
A bit taller than his partner, the Librarian usually wears a brown trench coat over a formal black suit (leather gloves included). He hides his face with a hood sewn to his coat. He is known to carry a large tablet computer around.
Personality
Edit
The Librarian used to be a jerk. He had a haughty streak a mile wide and a bad case of Time Lord superiority complex. His social skills are scraping rock-bottom, too. He had an unhealthy obsession with an Osirian pun, hinted to be a way to cope with the reason ran away from Gallifrey — something happened to one of his dear friends that left him disfigured and in a coma.
For some reason, he considers the Reader a friend,[1] and treats her as decently as he can; she is the sole person he isn't a jerk to.
Then The Aviator solved the Riddle. The Librarian is now a lost man, unsure of his place and purpose in the world.
He currently serves as the Jade Warden on the Continuity Council of Gallifrey-in-Exile.
Second Librarian?
Edit
Appearance
Edit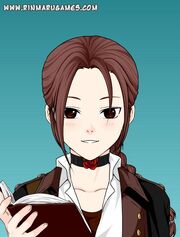 First appearing in Ten Years Hence story, the second Librarian looks like a nineteen-years-old girl[2]. She's short, petite and sports a long braid. She still retains her previous incarnation's fondness of longcoats, but has exchanged the well-made, hooded one for a certain brown shabby one.
Personality
Edit
Quiet, formal and still unable to use contractions, this version of the Librarian does have a silly streak and a penchant for nicknaming. She is a caring parent — if a little too worrisome — and loves her husband very much. She seems to share Des' love of tea.
Mission Logs
Edit
Partnered with Desdendelle
Edit
Mission 3: "Screw Loose" (PPC badfic)

In which the Librarian is temporarily partnered with Rina to take down shipped versions of themselves.
Original fic not available online.
Other Stories
Edit
Appears in Never Falls Far

The year is 2034. Elanor comes back home from the Academy and proceeds to get into trouble.
References
Edit