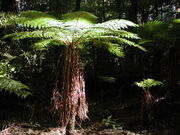 The
Tree Fern
was the Head of Acquisitions for
PPC Bioengineering Inc
, a company set up to provide money for the PPC by selling products acquired from Canon worlds; because of this organisation,
athelas
has become a common "secret ingredient" in
Real World
medicines. The Tree Fern's job was to acquire the products to be modified and sold.
During the events of the Reorganisation, the Tree Fern had a good deal of contact with the Mary Sue Factory; it was in the Factory that he was imprisoned by the Nightshade and the Orchid, and later executed by the Mysterious Somebody.
Appearances
Edit
Ad blocker interference detected!
Wikia is a free-to-use site that makes money from advertising. We have a modified experience for viewers using ad blockers

Wikia is not accessible if you've made further modifications. Remove the custom ad blocker rule(s) and the page will load as expected.