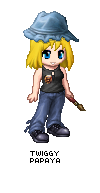 Agent Twiggy is one of the Department of Cool and Unusual Punishment's original agents. She was written by Twiggy Papaya.
Twiggy works from Response Center #42.22/9 with her regular partner, Scorpia. She has also worked with Agent Brittany, though that mission is not recorded. Twiggy and Brittany are responsible for recruiting and naming Agent Ilraen-Aroline-Fothergill.
Mission Reports
Edit
Home: Department of Cool and Unusual Punishment
Partnered with Scorpia Edit
Other Appearances
Edit
Ad blocker interference detected!
Wikia is a free-to-use site that makes money from advertising. We have a modified experience for viewers using ad blockers

Wikia is not accessible if you've made further modifications. Remove the custom ad blocker rule(s) and the page will load as expected.